Ok, this is weird, and we didn't have to go far to make sure this was real.
Governor Gretchen Whitmer, who locked down her state, directed her AG to charge a barber criminally and prohibited people from buying gardening supplies, apparently has an obsession with Barbie dolls.
Before we go any further, it is normal for a grown adult to have a Barbie collection. Some Barbie dolls can be very valuable. The most expensive Barbie ever sold was designed by famed jeweler Stefano Canturi, who created a one-of-a-kind Barbie doll with real diamonds that was sold for $302,500 in a Christie's auction in 2010.
It's another thing to be a governor of a state and post pictures of a Barbie doll posing to be you on your official social media account.
On Whitmer's Instagram account, she posted seven pictures using a Barbie doll in her image.
Look who loves Barbie pic.twitter.com/iecbE1869Y

— Jack Poso 🇺🇸 (@JackPosobiec) July 21, 2023

"My 5th bipartisan education budget is the best one yet! This real-world funding will help us build a brighter future," the post said.
 

View this post on Instagram

 
Apparenlty, fuchsia is Whitmer's power color. Folks, I wish I was joking.
"Come on Barbie, let's go govern," the social media post caption read. "This Barbie is the 49th Governor of the great state of Michigan, and just like @barbie, fuchsia is my power color. 💗 I'm committed to fighting for a state where every Michigander, no matter their background, can thrive."
 

View this post on Instagram

 
In case they get deleted because of the backlash she's probably going to get below is a screenshot.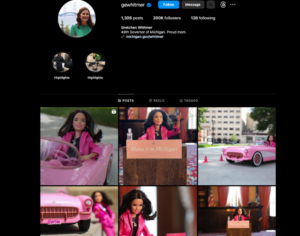 Look, it's one thing play with Barbies if you are making an apperance with kids or have a collection but this is on a whole other level of weird.
The movie looks weird too.
Here is Ken singing about 'blonde fragility' in the insanely woke new Barbie

This is possibly the most anti-male film ever madpic.twitter.com/7Lr98Cy4h0

— Jack Poso 🇺🇸 (@JackPosobiec) July 21, 2023