Pay attention, Disney, you are headed in this direction.
The most affected people in the Bud Light marketing fiasco this spring were the distributors and they have given up.
Anheuser-Busch tried everything, including giving away the beer but Americans said no.
Trying to save the brand the company conducted a hiring freeze and layoffs but that didn't stop the bleeding. Anheuser-Busch wholesalers have decided to move on because Bud Light is bringing them down.
"Consumers have made a choice," said an executive at a Texas-based beer distributor who did not want to be identified. "They have left [Bud Light] and that's how it's going to be. I don't envision a big percentage of them coming back."
The company is reeling because other brands they own like Michelob Ultra and Busch Light also took a sharp decline in sales.
"There is an increasing feeling that this [Bud Light] decline rate could last for a while and the distributors are worried about losing those drinkers to other similar brands," David Steinmann, executive editor of Beer Marketer's Insights said.
"The strategy of targeting younger, newer consumers is the right one," Michael Stone, chairman of Beanstalk Group, a New York-based branding firm said during an interview. "But Anheuser-Busch made a mistake executing on the strategy."
Constellation Brands, Anheuser's US rival owns the rights to distribute Modelo in the USA and it has been outselling Bud Light since May of 2023.
"What's helping distributors is having Modelo in their portfolio," the beer executive said. "But if you don't have Constellation, you are in a pickle."
Bud Light is barely hanging on to their number one spot, but forecasters and experts all say by the end of August 2023 they will be dethroned.
Mainly because the MSM is trying to bury these stories so they don't get any follow-up but below is a screenshot as of the writing of this post showing the last 6 months of Target's stock.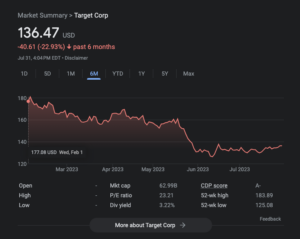 Boycotts work.