A pair of F-35 NATO fighters were scrambled to intercept a trio of Russian warplanes flying with their transponders off.
The three Russian aircraft, one Il-20M intelligence-gathering, and two SU-27 fighters were intercepted close to the Russian-Polish border on February 13, 2023. The three planes approached Poland from the Kaliningrad Oblast, "a small Russian exclave on the Baltic wedged between Poland and Lithuania."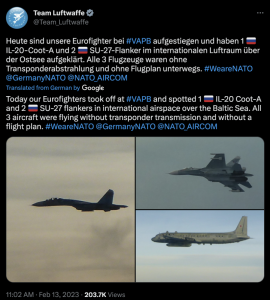 Heute sind unsere Eurofighter bei #VAPB aufgestiegen und haben 1 🇷🇺 IL-20-Coot-A und 2 🇷🇺 SU-27-Flanker im internationalen Luftraum über der Ostsee aufgeklärt. Alle 3 Flugzeuge waren ohne Transponderabstrahlung und ohne Flugplan unterwegs. #WeareNATO @GermanyNATO @NATO_AIRCOM pic.twitter.com/SsHLsBxtKl

— Team Luftwaffe (@Team_Luftwaffe) February 13, 2023
German pilots took the pictures above after they took the interception over from the Dutch who first responded.
From Breitbart News:
The NATO aircraft that intercepted the pair were Dutch F-35s, attached to the NATO Baltic Air Policing mission based out of Malbork airbase. The Dutch Ministry of Defence said of the interception on Monday evening: "Two Dutch F-35s carried out a first interception from Poland. It concerned 3 aircraft: a Russian IL-20M Coot-A that was escorted by two SU-27 Flankers. F-35s escorted them from a distance and handed over escort to NATO partners."

Germany took over the interception from the Dutch first-response F-35s and published images their pilots took of the Russian aircraft.
The intercept took place the same day the Biden administration issued a level 4 travel warning to Americans in Russia, telling them to get out of the country.
"Do not travel to Russia due to the unpredictable consequences of the unprovoked full-scale invasion of Ukraine by Russian military forces, the potential for harassment and the singling out of U.S. citizens for detention by Russian government security officials, the arbitrary enforcement of local law, limited flights into and out of Russia, the Embassy's limited ability to assist U.S. citizens in Russia, and the possibility of terrorism," reads the State Department warning. "U.S. citizens residing or travelling in Russia should depart immediately. Exercise increased caution due to the risk of wrongful detentions."